Automatic Horizontal Surface Grinders
With our expertise in the concerned field, we are engaged in offering a wide array of Grinding Machinery, Lathes Machinery and Tool & Cutter Machinery that are widely used in various industries for different purposes. These are manufactured using the best quality factor inputs in order to meet the international quality standards. Further, these are available in various sizes, capacity and dimensions, and can be customized as per our clients' specifications.
We Offer:
The base is made of heavy duty, closed grain grey cast iron amply proportion to give a rigid foundation. so essential for precision grinding. The base houses for electrical control, gear main driving system to work slide and coolant, arrangement.
The grinding head is supported by a box type column gives regidity and minimum deflection at the wheel head. the special type motor is provided with tapper rolling bearing
Make an Enquiry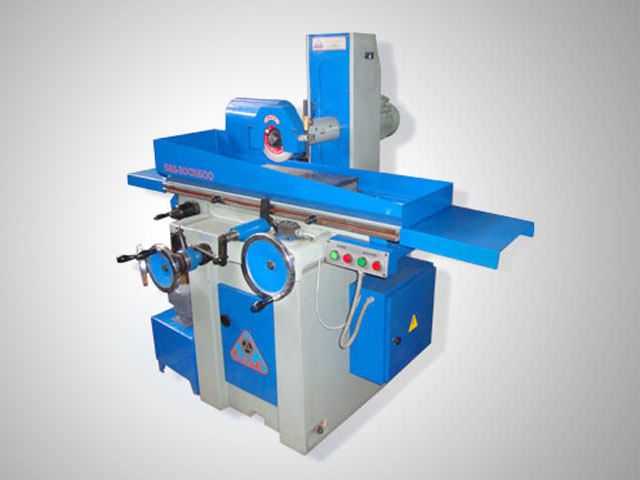 | Standerd Accessories | Optional Accessories |
| --- | --- |
| Grinding Wheel | Electrical coolant system |
| Diamond Tool Holder | Permanent Magnetic Chuck |
| Clamp bolts | Diamond dresser |
| Bar for locking Spindle | Spot Light |
| Safety Guard | |
| Locker (manual drive & Auto drive) | |
Specifications / Models
(All Modles are Available in Manual Drive, Auto Drive & Hydraulic Drive)
SG - 2550
SG - 2560
SG - 3060
GENERAL CAPACITY
Working Surface
250 x 500
250 x 600
300 x 600
Longitudinal Traverse (Max)
500
600
No. of T Slots
1
2
CROSS FEED
Total Cross Traverse
270
325
Movement Per Rev. of Hand Wheel
0.05
VERTICAL MOMENT
Hand Feed Per Revolution
1mm
Hand Feed Per Division
0.01mm
WHEEL HEAD
Size of Grinding Wheel(φ X width X Bore)
200x13x1.75
200x19x31.75
Speed of Grinding Wheel
2880
Capacity between wheel & table (New Wheel)
275
ELECTRICAL
Wheel Head Motor
1H.P
1.5
Table Feed Motor (For auto drive)
1H.P
Hydraulic Motor
1H.P
Coolant Pump
0.12k.w
Cross Feed (For Hydraulic)
0.18H.P
FLOOR SPACE
Length X Width
1900 X 1420
2185 X 1575
2450 X 1650
Length X Width X Height of Machine
1450 X 1140 X 1575
1575 X 1245 X 1575
1850 X 1350 X 1585
Length X Width X Height of Machine
1750 X 1300 X 1800
1750 X 1300 X 1800
1850 X 1400 X 1800
All main parts such as column wheel head ,table, saddle and machine base are provided with heavy and sturdy design to give higher rigidity of the machine.
All hand wheels , levers switches are conveniently grouped at the front of the machine for convenient operation of the machine.
All slide ways and electrical switch box are sealed from dust , chips and coolant for easy maintenance and longer life of the machine.
Hydraulic power unit is inbuild and coolant tank are separated from the machine.
Wheel spindle rotates in grease packed angular contact rolling elements bearing and directly driven by the motor through a flexible coupling.
Independent lubrication system to the guide ways of the table and grinding wheel head (in Hyd. models only).
Performance :-
Finish: 025 um Ra (using 60 grit wheel on hardened test piece)