Hydraulic Surface Grinder Over Arm type
With our expertise in the concerned field, we are engaged in offering a wide array of Grinding Machinery, Lathes Machinery and Tool & Cutter Machinery that are widely used in various industries for different purposes. These are manufactured using the best quality factor inputs in order to meet the international quality standards. Further, these are available in various sizes, capacity and dimensions, and can be customized as per our clients' specifications.
We Offer:
The Surfaces of longitudinal table ways are all hand scraped to getting perfect contact pattern and to ensure very high accuracy.
Longitudinal table ways are designed to have slide surfaces longer than of the working surface and equal to the table length to keep the table free from torsion and deflection.
Make an Enquiry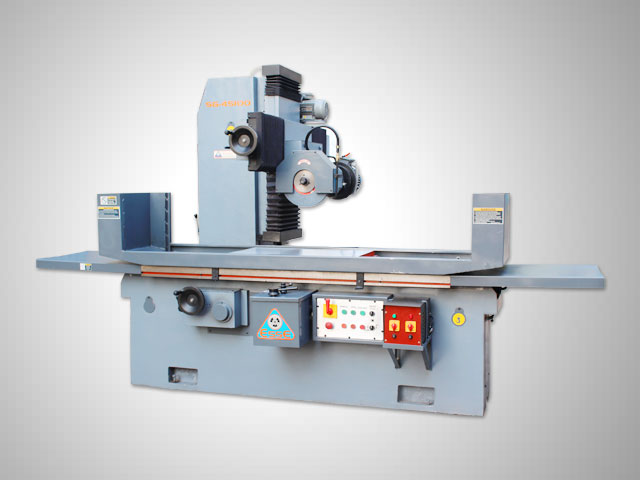 Specifications / Models
SG-40100
SG-45100
SG-50100
General Capacity
Working Surface
400 x 1000
450 x 1000
500 x 1000
Longitudinal Traverse (max.)
1000
No. of T Slots
2
Cross Feed
Total Cross Traverse
450
500
575
Movement Per Rev. of Hand Wheel
0.05
Vertical Movement
Hand Feed Per Revolution
1mm
Hand Feed Per Division
0.01mm
Wheel Head
Speed of Grinding wheel ( Ø X with X Bore)
300/25/75mm
355/38/127mm
Speed of Grinding wheel
2880
1500/1800
Capacity Between Wheel & Table (New Wheel)
400
Electrical
Wheel Head Motor
3 H.P.
5 H.P.
Hydraulic Motor
3 H.P.
5 H.P.
Coolant Pump
0.12 K.W
Cross Feed (For Hydraulic)
0.5 - 1 H.P
| Longitudinal Slideways | Cross Slideways | Longitudinal Movement | Cross Movement | Vertical Downfeed |
| --- | --- | --- | --- | --- |
| One Vee Flat Fee | Flat Doveail Type Gibbed Ways | Hydrulic | Automatic | Rapid Up/Down |